Nyungwe Marathon Team is excited to have an incredible number of volunteers working tirelessly behind the scenes to continue improving the event, adding new touches, and enhancing the experience for you as participants. You can contact us if you want to join our team with diverse skills. By joining us, you play a crucial role in the delivery of the event, and in return, you get experienced by being part of a truly great event.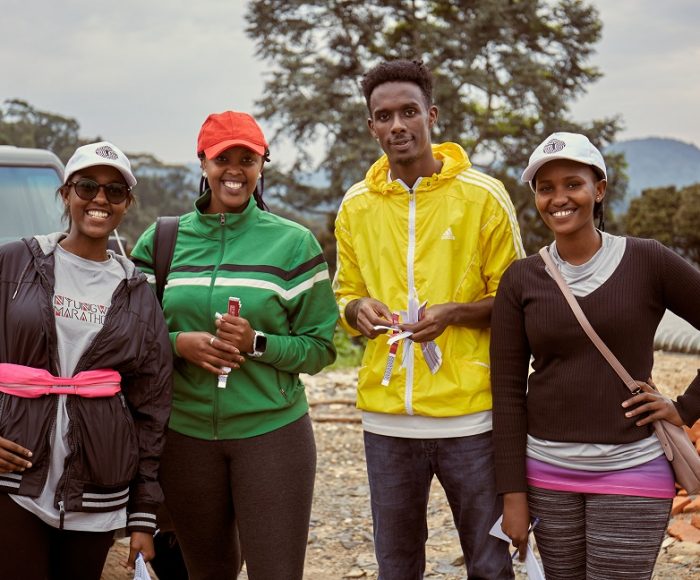 Nyungwe Marathon is not like other marathons. We don't give out trophies for first place. We don't even have bib numbers or timing chips. We deliberately keep things simple to focus on the running, the people, and the forest. These are what make this event special.  
In 2012, we started this tradition of running together in Nyungwe National Park with only 15 brave runners. Every year since, more and more people have joined after hearing how memorable it is to run between Nyungwe's tall green trees and beneath its true blue sky. In 2019, over 400 people ran together and enjoyed the beauty of Nyungwe. Big thanks to all our past participants, for your enthusiasm and for spreading the good word about the marathon.
As we look forward to 2021, we want to do more to support the great local businesses that surround Nyungwe Forest. They are essential to conserving its natural beauty.  
There are so many exciting things that have been in the pipeline over the past years, and it's amazing to see them all coming to life, as the Nyungwe Marathon goes from strength to strength.
It's so rewarding knowing that not only is the event influencing people to get fit and challenge themselves by taking part, but making a huge benefit on the wider community.
Seeing the smiles, celebrations, range of emotions, and relief as participants cross the finish line, and be presented with their finishers medal — there are just no words to describe it! Whether you are taking on the "Double-Double, The Full, The Half, or The Half-Half, Sponsor, volunteer, exhibitor – make the most of this iconic event.
We are looking forward to celebrating with you all at the finish line during the Nyungwe Marathon 2021's edition.